CLICK HERE FOR A MAP OF THE FRANKLIN HISTORIC DISTRICT (89K PDF)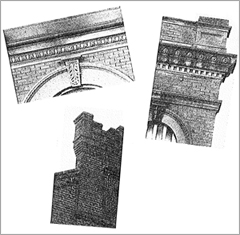 The Franklin Historic District contains nearly 420 noteworthy structures and was listed in the National Register of Historic Places on December 29, 1982. This area is comprised of the original mid-nineteenth century town which grew in a linear fashion along the left bank of Bayou Teche and the more densely built railroad town, which developed during the late nineteenth and early twentieth centuries. Because much of the original town was rebuilt when the railroad came, many of the surviving mid-nineteenth century structures are grand monuments scattered in an essentially turn-of-the-century townscape. Several areas, particularly those near the railroad, have an almost pure turn-of-the-century character.
Franklin's major commercial corridor runs along Main Street between Willow and Adams Streets. Although this commercial district includes a number of modern buildings that affect the area's overall character, these buildings are easily overpowered by many turn-of-the-century masonry structures, most of which are two stories high with parapet caps reaching almost three stories. These buildings include such decorative treatments as stepped gables, brick panels, arched windows, ornamental keystones, pilasters, crenellations and corbelled brickwork.
MAIN STREET
Main Street, which is Franklin's major thoroughfare, runs parallel to Bayou Teche and consists of two roads separated by a neutral ground that was part of the model roadway's original White Way. Ornamental lighting still stands along East Main Street's boulevard and serves as an ever-present reminder of the charm and grace that characterized life in Franklin during the early decades of the twentieth century.
Although Main Street was the site of the town's earliest development, it retains only two conspicuous reminders of the pre-Civil War era. One is Shadowlawn, a two story frame mansion with six fluted colossal Corinthian columns forming the double entrance gallery. The other is the south end of Main Street between Gates Drive and Upperline Street. This scene is dominated by six large Greek Revival Houses, four of which incorporate colossal pedimented porticos.
Despite the fact that this stretch contains some smaller more recent houses, the older structures dominate because of their size and sweeping lawns. The area offers a quality of spaciousness characteristic of the town's pre-Civil War era. The pretentious grand village effect is enhanced by the two rows of live oaks that flank Main Street.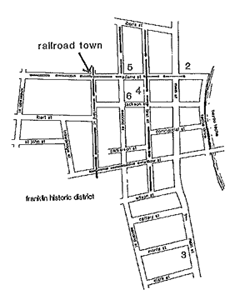 RAILROAD TOWN
Because the town developed to some degree west of Main Street prior to the introduction of the railroad, there are several isolated mid-nineteenth century relics along First and Second Streets. Presumably raised during the turn-of-the-century building boom, it is suspected that more of these raised cottages incorporating such Greek Revival elements as Corinthian-columned galleries existed in the area at one time.
With the late nineteenth century's boom in the saw mill industry and the coming of the railroad, these older houses became immersed in a proliferation of building activity characterized buy small frame houses with narrow setbacks, small lots and Queen Anne and Eastlake details. These houses fall into three main categories: shotgun, raised cottages with late nineteenth century details and L-shaped houses with side gables and semi-octagonal bays. The finer examples of this last group are heavily worked with several kinds of imbricate shingles, turned posts, brackets, barge boards and gallery turrets.
Larger two-story, turn-of-the-century houses occur with less frequency in the railroad development area and are somewhat isolated among smaller houses. Not forming any consistency in their neighborhood's overall streetscapes, these houses achieve their effect through the application of detailing that is much closer to the high style of the Queen Ann period than their smaller counterparts. Early twentieth century bungalows occur in limited numbers in this area and merely fill in existing areas already predominated by earlier building styles.